10 quarantine approved home workouts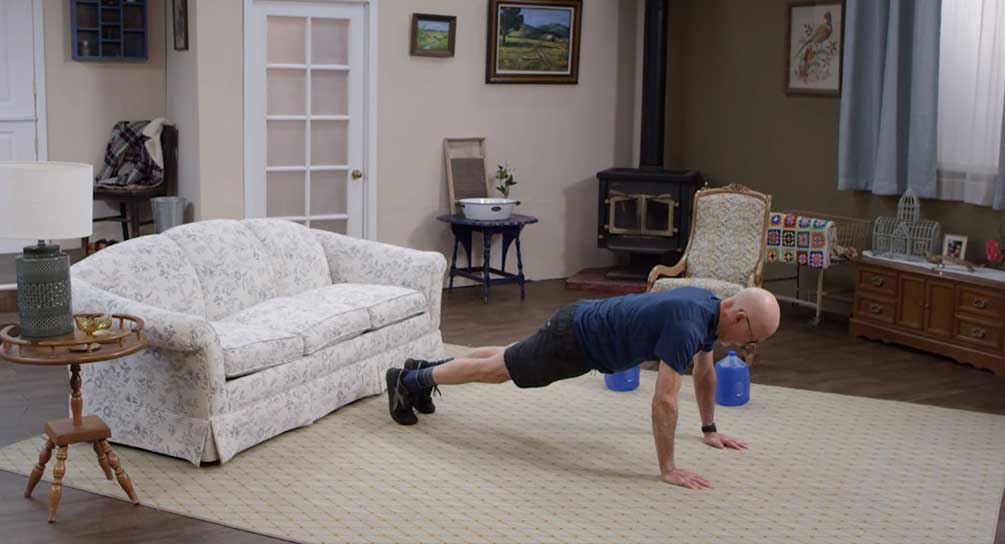 Whether you're looking for a nice pump or a fun way to break a sweat these home workouts have you covered.
The benchmark
For time: 100 burpees
Because every Crossfitter should know how long it takes them to complete this test.
The creative
20'EMOM
3/5 push ups
5/10 sit ups
10/15 airsquats
5'REST
For Time ->100 thrusters with object
For the EMOM: all movements are performed on the same minute, choose a rep scheme that gives you 10-15 sec rest each minute.
For the thrusters: get creative! If you don't have actual weights with you try filling up a backpack with water bottles or other heavy objects and use it as a makeshift sandbag.
Until failure do us apart
EMOM: 2 rounds
10 air squats
10 alternating jumping lunges
Every interval increase rep scheme of 2, so from 10+10 to 12+12 then 14+14 and so on.
You stop when you can't finish the 2 rounds within the 3 minute interval.
Stairway to heaven
If you have a decently long staircase available give this one a try. Stay safe and don't rush down the stairs.
20' AMRAP
Alternate these "styles" of going up: single steps, double steps (= skipping one step), high knees single steps, side steps on the right then the left, squat jumps.
Down up
For time: 150 down ups
EMOM alternating between (A) 30 double unders or 30 jumping jacks – (B) 5 pushups
The Pyramid
For time:
100 air squats
80 stationary lunges
60 sit ups
40 push ups
20 burpees
40 push ups
60 sit ups
80 stationary lunges
100 air squats
Have a vest? Throw it on! A back pack filled with heavy objects can also do the job if you want this workout to have an extra kick.
Run Jump Run
This one is for those of us that are fortunate enough to be able to run outdoors. Always check with your region's restrictions beforehand.
40 minute easy pace run.
Every 4 minutes: 10 broad jumps
Shoulder burn
AMRAP15':
3 wall climbs
6 burpees
9 strict handstand push up
60 double unders
If you can't perform full strict HSPU scale them by adding pillows and books under your head until you reach a doable range of motion. Otherwise switch to pike push ups.
Race to a hundred
EMOM
10 handstand push ups,
in the remaining time
AMRAP burpee clusters
Keep going until you reach 100 reps of burpee clusters (perform a burpee but instead of jumping use two dumbells/water bottles/makeshift hand weights to perform a cluster).
Goodbye legs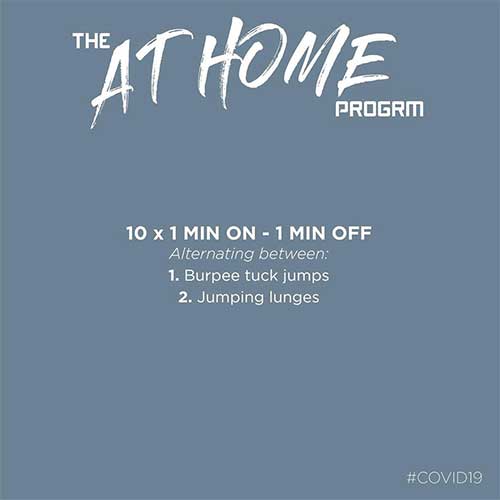 10 rounds 1 minute ON – 1 minute OFF
AMRAP alternating between:
(1) burpee tuck jumps
(2) jumping lunges
In need for some extra motivation or guidance? Check out this article full of tips and trick to keep you sane and on track during the quarantine.