Ella Wunger CrossFit Athlete
Ella Wunger is a Swedish professional CrossFit Athlete who joined The Progrm in 2018.
Max Clean and Jerk: 95 kg for two
Max Snatch: 82,5 kg
Max unbroken RMU: 11 kipped (10 strict😅)
Quickest 5km Run or Row: I've only tested run once and did it in 21:50.
Stats
Year of Birth: 1993
Nationality: Swedish
Height: 170 cm
Weight: 65 kg
Profession: Photographer & graphic designer and works with social media.
Instagram: @ellakanona
Career Highlights
CrossFit Games athlete 2023
8th CrossFit Europe Semifinal 2023
Fittest Woman in Sweden 2023
5th Fittest Woman in Sweden 2022
19th CrossFit Lowlands Throwdown 2022
14th CrossFit German Throwdown 2021
2023
Wodapalooza
This was Ella's first appearance at Wodapalooza and she competed as an individual athlete and on a team in the Elite category. She finished 24th and 16th respectively.
The Open, Quarterfinals, and Semifinals
After placing 28th worldwide in the Open and 13th in Europe at in the Individual Quaterfinals, Ella went on to compete in the Europe Semifinals. At the end of the weekend she finished 8th, earning a place to compete at the 2023 NOBULL CrossFit Games.
The French Throwdown
Ella qualified but was forced to withdraw from the competition before participating in any events.
CrossFit Games
In August of 2023 Ella travelled to Madison, WI to compete in the 2023 NoBull CrossFit Games. Her best event finish was in Event 5, Ski-Bag. Ella's performance in the sandbag and ski erg sprint earned her 4th place in the field, even beating out scores from the strongest heat. Since she had fallen out of the top 30, Ella was one of 10 female athletes cut after day 2 of the competition.
2022
The Open and Quarterfinals
Ella's worldwide rankings were 96th in the Open and 38th in the Quarterfinals.
CrossFit Lowlands Throwdown 2022
For Semifinals Wunger flew to England to compete at the CrossFit Lowlands Throwdown. She put up a good fight finishing 19th overall.
French Throwdown 2022
This was one of Ella's most dominant performances. She had 4 top 5 event finishes and finished 8th overall asserting that she is a well-rounded athlete to watch out for.
Dubai Fitness Championships 2022
Ella participated in the Dubai Fitness Championships. She had two top 10 finishes and ended the weekend in 14th place.
2021
CrossFit German Throwdown 2021
This was Wugner's first Semifinal/Sanctional appearance. Despite competing alongside many veteran CrossFit Games athlete, she held he own bagging fourth place in Event 2. She finished 14th overall.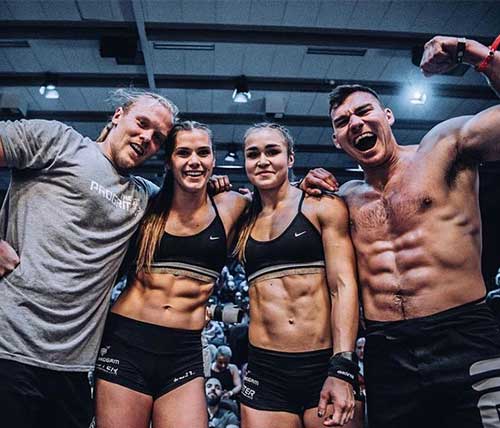 My mum and dad has always been very much into sports so it was a natural thing for me and my siblings from the start. I have a big brother and a little sister.
They are all really supportive and understanding with what I do and are always there for me.
I practiced track and field until I was around 12. Then I got lazy for a while. I did some pump sessions at a gym and tried out karate for a while before I found out about CrossFit.
I went to my first CrossFit class at the start of 2016. I saw a big competition in Stockholm with some of the best athletes in Sweden. It looked so cool and fun and I said that next year I want to be there. After that I looked it up and found a box in my hometown and started straight away.
Q&A
How long have you been a Progrm Athlete?
I think I started The Progrm in 2018. I won an online competition hosted by The Progrm and got invited to compete in a team with fellow Progrm athletes Ram Dover and Axel Lundgren in France. I got to meet John and the whole team and that's where it started.
Hardest workout you have ever done?
It's hard to choose one. Usually every time I do a qualifier or competition workout afterwards I feel like it's the worst thing I've ever done. But on top of the list would probably include any workout with worm thrusters and worm burpees. Or that one time I ran up and down a Norwegian mountain. Or Fran directly into 500 m Row.
Choose/Design 1 workout to beat anyone in the World:
Some kind of sprint with burpees, rope climbs and dumbbells.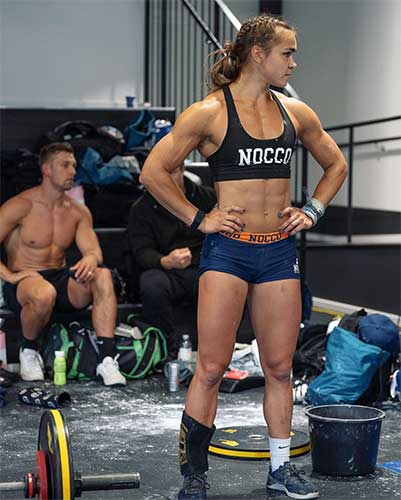 If you could bring item to a dessert island what would it be?
Peanut butter
My mum
Telephone
Who do you wish was watching you perform at every game or match?
My brother.
He will always be my extra coach. He knows me better than anyone (probably better than myself). In the beginning he did my programming and taught me how to lift.
Who is your favorite sports hero?
Usain Bolt
How does being an athlete make you a better person?
I'm not sure it makes me a better person, as sometimes as an athlete you have to be very self focused. But I think with finding this sport and realizing my potential it has given me better confidence and in that way making me happier within myself, I'm less shy and more confident.
Best song or playlist?
Thinking bout you – Frank ocean
In training my own playlist Hot on the barn is always my go to.
Top Movie?
Ella the enchanted
Best moment in your CrossFit career?
When our team Qualified for the Games.
Tips for someone who wants to become a professional CrossFit Athlete?
I think it's important to find a coach and team of athletes with the same goals as you to work together with.
What do you tell yourself on days when you feel unmotivated/tired?
I'm usually motivated and happy to train. But of course there are days when I'm not feeling it.
Those days I try to not feel or think about it so much. Just do what I have to do as good as I can but be kind to myself.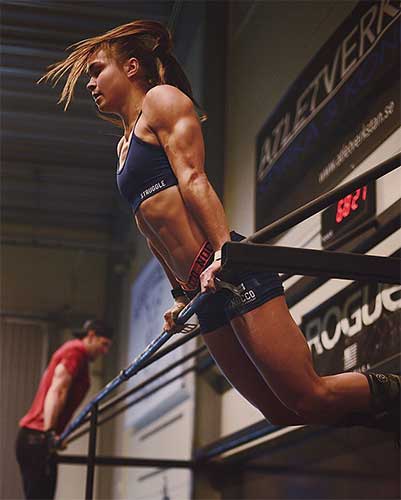 What goes through your head before entering the competition floor?
I usually go through the workout, just see the things I'm going to do and prepare myself.
Then I try to think good thoughts and hype myself up.
Right before it starts my head usually goes pretty blank.
What do you think is the biggest lesson you've learned through CrossFit?
I'm tougher than I think.
What are your goals in the close future and distant future?
Right now Im excited to see how my shape is for the Open. I can just do my best and see where it takes me.
My goal In the long run is to give myself the best conditions to become my best and see where it can get me. I would lie if i didn't say always want to be the best.