Knowing When You're Ready to RX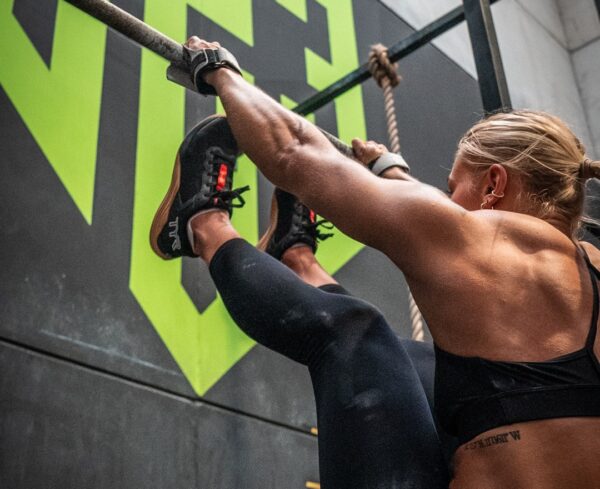 The road to becoming a top CrossFit athlete Is long, uncertain, and callus ridden. As you immerse yourself in the world of weights, reps, and WODs, it becomes very clear that training never feels easier, you just get better. In CrossFit, one way that we measure your progress and ability is by aiming to comply with the standards set for each exercise and each workout. When you're able to fulfill these standards on a regular basis, you are no longer considered to be a rookie or "scaled athlete", but rather an RX athlete.
If you want to be a big dog, you have to be able to RX. Here's how to get there.
What is RX?
In CrossFit, the term "RX" refers to completing a workout exactly as prescribed, without any modifications to the movements or the weights used. When an athlete chooses to go RX, they are choosing to do the workout at the maximum level of difficulty, as intended by the workout's creator.
Although there isn't a cut and dry standard for what makes an athlete RX, it is understood that they can move the prescribed weights and perform even the more advanced CrossFit skills at high intensity. Becoming an RX athlete is a lengthy process because there are so many different exercises and skills to perfect. This huge checklist of competencies also explains why many athletes can spend months or years on the cusp of becoming a fully RX athlete.
Athletes who are unable to complete the work as prescribed (also known as "going RX") should reduce the degree of difficulty by scaling; regressing the exercise or workout by modifying the movement, range of motion, or weight used.
To Scale or Not to Scale?
Whether or not an athlete should go RX in a particular workout depends on their current fitness level and experience. If an athlete is confident in their ability to perform all of the prescribed movements with good form and at the prescribed weights, then they may choose to go RX. However, if an athlete is not yet able to complete all of the prescribed movements with good form, or if the prescribed weights are too heavy for them, it may be better for them to scale the workout by modifying the movements or weights.
The goal should always be to maintain good form and technique, even if that means scaling the workout. This is the best way to maintain the intended stimulus of the workout and ensure that athletes adapt progressively.
There are a few different factors that can influence whether or not you should scale an exercise in a workout:
Your fitness level: If you are new to fitness or have a lower fitness level, you may need to scale exercises or timeframe of the workout to make them more manageable.
Your experience: If you are new to a particular type of exercise or movement, you may need to scale it until you feel confident that you can execute it safely accounting for the fatigue and hurry that are presented in a high intensity setting.
The prescribed weights: If the prescribed weights are too heavy for you to complete the prescribed number of reps with good form, you should reduce the weight and use what will allow you to work at high intensity.
Your form: If you are unable to maintain good form during an exercise, you should scale the exercise or its range of motion to make it more controllable. Your form should be consistent even when you're a few minutes into the workout and the fatigue has set in.
It's important to remember that scaling an exercise is not a sign of weakness. In fact, scaling an exercise to maintain good form and technique is often a sign of strength and intelligence, as it allows you to progress safely and effectively to more advanced movements.
Besides, being able to complete scaled exercises adds to your arsenal, making you a more complete CrossFit athlete. If you want to reach mastery, it's important to strive for progress rather than skipping steps. Scaling also comes in handy when you want to avoid certain exercises maybe due to an injury or lack of equipment.
Even though Crossfitters tend to be rather obsessive about their numbers and PR's, it's not essential to be an RX athlete in order to achieve a formidable physique or level of fitness. Scaled, RX, or otherwise, CrossFit is a great way to get in shape, develop athleticism, and improve your quality of life.
When should I use more weight?
Knowing when to increase weight in workouts is very individual. Chances are, if you regularly have this doubt you should probably stick to training under the supervision of a coach or trainer until you gain a little more experience. The trainer will be able to evaluate when you're ready to manage heavier loads or more advanced skills in workouts.
As a guideline, once you're able to complete 8 to 10 reps unbroken while still using good mechanics, you can progressively start using more weights to complete the exercise. That doesn't mean that once you can do 10 unbroken power snatches with 30 kilos, you should only use 40 from that point on. Aim to use 35 or 40 kilos more often, but stick with 30 when the idea is to be comfortable in the snatches. Remember that in the end, the goal is to practice these movements and accumulate volume in order to become proficient or to get used to managing them.
Even when you feel confident with a certain weight when trying it out before the WOD, remember that at 321 go, everything changes. As intensity increases, form and integrity often go out the window, so make sure you give your weights a proper trial before starting the clock.
Conclusion
While being an RX athlete doesn't necessarily mean that you're going to the Games (though it's a pretty obvious prerequisite) it is a merit to your consistency, hard work, and level of fitness. Being RX is a solid achievement and one that every CrossFitter should strive for. That said, it's a merit that is achieved gradually as you work to improve your skills across each modality. Keep the destination in mind but continue to focus on enjoying the journey.