Top 5 Memorable CrossFit Open Workouts
For the 2023 season, the Open will be going into its 13th year. If you are participating for the first time this year, this will serve as a history lesson for you. Anyone that's participated before has an Open story, be it a surprising accomplishment or a hard-learned lesson. On the other hand, if this isn't your first time at the rodeo, get ready for a traumatic trip down memory lane as we relive some of the most memorable workouts of the Open.
What is The Open?
The competitive CrossFit season all kicks off with the Open. A three-week event (formerly 6 and five weeks) that inaugurates the long, and arduous journey to the CrossFit Games. Each week during this massive test of fitness, CrossFit HQ releases a workout to be performed by athletes at home or at their box. The workouts must be judged or recorded, submitted to HQ online, and validated before the results are added to the worldwide leaderboard. (If you've ever wondered how you stack up against athletes in over 170 countries, sign up for the Open now). These workouts are inclusive for all stages of athlete, but must also test the skills, capacity and athleticism of its nearly 500,000 participants. 
12.1
Complete as many reps as possible in 7 minutes of:
Burpees
The infamous seven-minute AMRAP that kicked off the second annual CrossFit Open. 12.1 was proof that CrossFit can be done by anyone. One exercise, one standard (both hands must touch target 6 inches above the athlete's max reach), and no equipment necessary.
Even today this workout is often programmed in CrossFit classes as it's a great test to measure one's aerobic capacity. It's straight forward, requires very little setup, and it's easy to measure progress. So, what made this test so heinous? It's repeatability. For the top percentile, the stakes were high; one burpee could decide whether the athlete would move on to the next stage of competition, but even for recreational crossfitters, this was probably one of the most repeated Open workouts so far. After the first time, you were sure that you could do better just by changing your "strategy" only to come up with more or less the same result.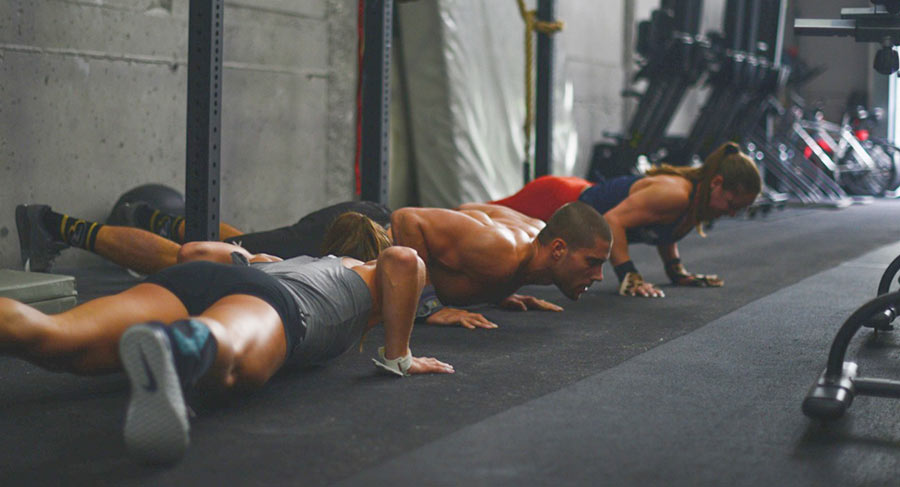 13.5
Complete as many rounds and reps as possible in 4 minutes of:
15 Thrusters 100/65 lbs.
15 Chest-to-bar pull-ups
If 90 reps (3 rounds) are completed in under 4 minutes, time extends to 8 minutes.
If 180 reps (6 rounds) are completed in under 8 minutes, time extends to 12 minutes.
If 270 reps (9 rounds) are completed in under 12 minutes, time extends to 16 minutes.
Etc., following same pattern until you fail to complete the reps.
The workout that nobody wanted to complete. This was the first time that time cap extensions were used in an Open workout. This meant that in theory, if the athlete was quick enough to finish the prescribed work before the time cap, the time cap would extend and the athlete would be forced to continue on, completing more work.
While there was a Master's division in 2013, This was also before there was a scaled division meaning that if you couldn't perform a chest to bar pull-up, this was probably one of the shortest workouts you had ever done. Of those who were able to complete the work, many would swear that it was worse to have to go on. The four-minute timeframes either worked in your favor motivating you to squeeze in the last a few reps or they worked to your detriment, making it impossible slide into the next section unless you love thrusters and have a really solid chest to bar.
14.5/16.5
21-18-15-12-9-6-3 Reps, For Time
Thrusters (95/65 lb)
Bar Facing Burpees
Up until 2014, Open workouts are known for being tests of a short to moderate timeframe. 14.5 broke that rule being the first Open workout to be completed for time…and without a time cap! Few can forget the chilling words of Dave Castro as he revealed this workout live from San Francisco: "The clock, save you it will not. You will do 168 reps or quit in the process of trying."
If you completed this workout in a box, you'll probably remember how this one really brought the community together. Since you were forced to finish it, all of the spectators, judges, and participants rallied to cheer on the remaining athletes who were still tackling the WOD. In that moment everything else was irrelevant, and celebrations and fist bumps only came after the last athlete finished. This one hurt as much as any Fran variation would, but it also encompassed the spirit of CrossFit and the spirit of the Open.
17.1/21.2
For Time
10 Dumbbell Snatches (50/35 lb)
15 Burpee Box Jump Overs
20 Dumbbell Snatches (50/35 lb)
15 Burpee Box Jump Overs
30 Dumbbell Snatches (50/35 lb)
15 Burpee Box Jump Overs
40 Dumbbell Snatches (50/35 lb)
15 Burpee Box Jump Overs
50 Dumbbell Snatches (50/35 lb)
15 Burpee Box Jump Overs
Time Cap: 20 minutes
17.1 wasn't the first workout "for time" announced by CrossFit, however it was the first time that a new exercise would appear in the WOD. Despite being a versatile and popular piece of equipment commonly found in gyms, it wasn't until 2017 when the Open saw the debut of the dumbbell in the form of a dumbbell snatch.
In terms of technicality, this couplet is rather simple but perhaps that's what makes it so dangerous. Consisting of a moderately heavy dumbbell and a body weight exercise, 17.1 is one of the more accessible workouts compared to other tests. It wasn't until you were about halfway through when you realized that coming out hot, or going Rx wasn't a good idea. The high volume of snatches combined with the impact of the burpee box jump overs really did a number on your posterior chain, but you were forced to continue up the ladder of reps until you had completed all 225 reps.
16.4/17.4
AMRAP in 13 minutes
55 Deadlifts (225/155 lb)
55 Wall Ball Shots (20/14 lb)
55 calorie Row
55 Handstand Push-Ups
A true fan favorite, 16.4 offers enough variety of exercises to pique your interest and expose your weaknesses at the same time. The name of the game is to see how much work you can get through before getting to the 13-minute time cap. In these WODs where time is of the essence, having a good rep scheme to break up these large sets what's crucial. Break too often, and you'd be lucky to finish the wall balls. Try to go unbroken and you'd hit a wall (and I'm not talking about the handstand push ups).
Between all of that pushing and pulling, no one suspected the nasty surprise awaited at the end of the round. Just as the year prior, the standards set for the handstand pushup was the cause of grief for many athletes. If you typically used a wide stance or performed the exercise with an excessive lumbar curve, chances are you couldn't get your feet past the line to mark a legal rep. Those chances were even lower if you had blasted through the first 175 reps. Trust me, I personally learned this the hard way in 2016 where it took me 4 minutes and 25 seconds to make up 19 legal handstand pushups. The moral of the story: don't fly too close to the sun.
Honorable Mention: 14.4
AMRAP in 14 minutes
60 calorie Row
50 Toes-to-Bars
40 Wall Ball Shots (20/14 lb, 10/9 ft)
30 Cleans (135 lb)
20 Muscle-Ups
An impressive list of challenges that becomes progressively more demanding as you get further in. 14.4 had one purpose and one purpose only: to separate the mortals from the machines. Even though a 135-pound clean was a bit on the heavier side at the time, if you could get in a few reps, chances were that you could put up a pretty decent score. On the other hand, for anyone that was hoping to go to the regionals or just simply hungry for glory, completing the round was a must.
Make it to the muscle ups, meant you were legendary. Finish them and you were a god. As for the rest of us, many athletes we're lucky enough to get their first ring muscle up arriving to the end of this workout. This is the beauty of the Open: It lets you believe in and accomplish things you thought were possible. No matter where you ended up at the time cap, 14.4 was the workout that had us all imagining making it back to the rower.
Conclusion
The Open is the one time of year where the entire CrossFit community is invited to prove their fitness alongside the biggest names in the sport. While it's a good idea to follow a plan, or program to see progress in your training, the Open workouts released by CrossFit HQ are usually some of the best indicators of fitness available.
Still not convinced that you should sign up? Do it anyway! There are a ton of reasons why you should participate and it's not too late to prepare if you start now. And prepare you must, because if this year is anything like years prior, there's bound to be a repeat in store (that hopefully wasn't mentioned above!). Good luck and may the WODs forever be in your favor.