Solveig Sigurdardottir is an icelandic CrossFit Athlete that joined The Progrm in 2021.
Age: 26
Nationality: Icelandic
Where are you living: Currently living in the UK
Height: 170cm
Weight: 68kg
Profession: Student
CrossFit Affiliate: Independent
Instagram: SolaSigurdardottir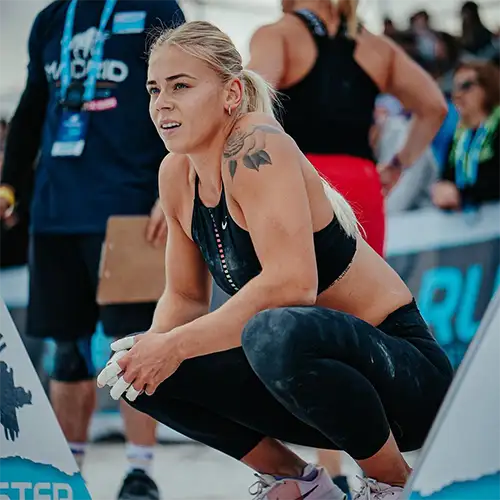 Max Clean and Jerk: 110kg
Max Snatch: 88kg
Max unbroken RMU: 13
Quickest 5km Run or Row: 22 min Run
Hardest workout you have ever done: Triple Three at European Regionals 2018
Choose/Design 1 workout to beat anyone in the World:

10RFT
1 Clean 90kg
2 Parallette HSPU
3 Muscle Ups
Who do you wish was watching you perform at every competition?
My parents
If you could bring item to a dessert island what would it be?
The sensible thing would probably be to bring matches, but that's not really a spicy answer, is it?
Who is your favourite sports hero?
Serena Williams
How does being an athlete make you a better person?
It just makes me more of an A person which helps in all aspects of life!
Best moment in your CrossFit career:
Winning the Madrid CF Championships 2021
How do you celebrate after a competition:
Dinner with friends as we are all too tired to do anything else haha. But the parties after Regionals were always wild, bring those back, please!
Tips for someone who wants to become a professional CrossFit Athlete:
The sooner you start doing CF the better, and don't neglect the basics as it will just make thing harder for you in the long run.
What do you tell yourself on days when you feel unmotivated/tired?
That I know I'll only feel worse if I don't do the things I'm supposed to do. But there is a fine line between just being unmotivated/a little lazy and actually needing to rest. Listen to your body as well.
Favourite song or playlist:
Icelandic Rap and Dakke day
What goes through your head before entering the competition floor?
Stay calm and don't analyse people when they are warming up as that can easily stress you out. Everyone looks amazing when warming up.
What are your goals in the close future (6 months – 1 year)?
This year I want to pass all my exams and move on to year 3 in Chiropractic. That is my no 1 goal as a setback there can cost me a lot of time and money. The other goal I have is to do extremely well at Semifinals.
And distant future (5+ years)?
I'll be working as a chiropractor somewhere with good financial stability and in a kick ass shape. Hopefully I'll be happy, however that happiness appears.
You may also like
---