Being that CrossFit first rose to popularity within the military and police communities, it has become commonplace for workouts to be created and named after those who die in service.
Collectively, these workouts are known as Hero WODs. In CrossFit, any WOD described as a benchmark is known to be tough, however the Hero WODs are among the most punishing.
Few WODs carry the same level of notoriety as the hero Murph.
Completing a grand total of two miles and 600 reps of body weight movements, all while donning a 20 or 14lbs weight vest, requires some serious grit and mental toughness.
Doing Murph is an important milestone, and you won't be able to call yourself a true CrossFit athlete until you understand why Murph is one of CrossFit's best-known and most revered workouts.
What is the "Murph" CrossFit workout?
1 Mile Run
100 Pull ups
200 Push ups
300 Squats
1 Mile Run
Men wear 20lb weight vest, Women wear 14lb weight vest
This benchmark is so grueling that it was programmed not once but twice in the CrossFit Games.
Who is "Murph"?
The Murph workout was named for Lieutenant Michael Murphy (1976-2005), a decorated US Navy SEAL who died at the age of 29 while serving in Afghanistan. Shortly after joining the Navy, Murphy discovered CrossFit and applied many of the principles to his own training, during which he would often wear his combat armor. Following Murphy's death, one of his favorite workout routines called "Body Armor" was posted to the CrossFit main site in August 2005 where it was immortalized as the Hero WOD we know today as "Murph".
Since then, it has become a tradition for many affiliates and CrossFit athletes to perform this workout on Memorial Day (an American holiday on the last Monday in May which honors soldiers and veterans) to commemorate the honor of Murphy and many other military and first responders who lost their lives while on duty.
How long does it take to do Murph?
Although the difficulty level of the movements in this workout isn't very demanding, the amount of volume is. Murph is truly a workout for the body weight ninjas who excel at moving efficiently. Many athletes will take about an hour to complete it, but elite level athletes should finish in considerably less, around 39 min.
During the 2015 CrossFit Games, the event was won by The Progrm Athlete at that time, Björgvin Karl Guðmundsson (38:36) and Samantha Briggs (39:10).
The combination of the workout and the unforgiving heat of California in July proved to be so demanding that one of the top contenders suffered a severe heat stroke, while the another was forced to withdraw from competition entirely. In the 2016 CrossFit Games, Josh Bridges (34:38) and Kari Pearce (36:42) won a partitioned version of the workout.
What's a good score for the "Murph" workout?
The score is the time it takes to complete the entire workout beginning and ending with a one-mile run.
Performing this WOD RX:
Beginner: 63-80 minutes
Intermediate: 50-58 minutes
Advanced: 40-50 minutes
Elite: < 40 minutes
How do I get I good score? How can I improve my "Murph" time?
Like every benchmark, Murph is meant to be tested and retested. Here are some tips to ensure that your next score will be better than your previous one.
Break it up: Break up reps in a way that will allow for maximum time moving and minimum need to stop and rest. Novices will benefit from dividing the work to resemble another CrossFit benchmark, Cindy (see below). Advanced athletes will be able to withstand fewer rounds of larger sets.
Always Be Moving: Stay efficient when transitioning between movements. Avoid taking long breaks to catch your breath or when moving between the pull-up bar and the ground. This workout is a marathon, not a sprint, so match your pace accordingly.
Hydrate and Recover: This workout isn't one to do on a whim. We're talking about an hour of non-stop high intensity exercise!
Fuel up by eating enough carbohydrates before and after the workout and drinking water with some electrolytes while you tackle Murph.
Be sure to cool down properly and stretch once you've finished to avoid having to rest for the remainder of the week.
How can I scale "Murph"?
Perhaps the most obvious way to make this workout more accessible would be to perform it without the weight vest.
This is a given especially for those who have not yet dominated unassisted pull-ups.
Another way to scale Murph is to divide it into rounds, as in the 2016 CrossFit Games.
Partitioning the WOD preserves the volume, but allows more rest for specific body parts as you continue to work your way through.
"2016 CrossFit Games Event 5: Murph"
1-mile Run
Then, 5 rounds of:
20 Pull-ups
40 Push-Ups
60 Air Squats
Then,
1-mile Run
Workout is performed with a weight vest (20lbs/14lbs)
If parting Murph into only five rounds still seems too aggressive, you can make it more manageable by spreading all of the work into smaller, bite-sized rounds:
"Murph Meets Cindy"
20 Rounds of:
160 m Run
5 Pull-Ups
10 Push-Ups
15 Air Squats
For beginners, it's advisable to reduce the total volume of the workout. Murph is often reduced to a quarter, half, or three fourths of the prescribed version:
"Half Murph"
½ mile Run
50 Pull-ups
100 Push-Ups
150 Air Squats
½ mile Run
If pull ups are a problem, they can easily be substituted with jumping pull-ups, ring rows, or even sit-ups.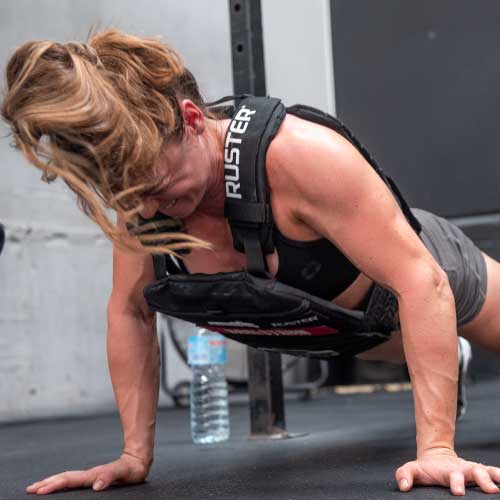 Why is Murph important?
Murph is programmed in affiliates and boxes all over the world. Even if you're not from the United States, when you participate in Hero benchmarks, you are paying homage to those who have fallen to defend the rights and freedoms of their community.
Though these workouts tend to be especially tough both physically and mentally, enduring a WOD named after someone who gave his life to protect others encourages us to think twice about what it takes to be a hero. For as much as they suffered, we do the same to honor their memory.