Moritz Fiebig is a CrossFit athlete that joined The Progrm in April 2022.
Stats
Year of Birth: 1993
Nationality: German
Height: 179cm
Weight: 95kg
Profession: Owner of Sankt Pauli Athletik
Instagram: @moritz_fiebig
Max Clean and Jerk: 160kg
Max Snatch: 130kg
Max unbroken RMU: 27
Quickest 5km Run or Row: run 21'
Career Highlights
2x CrossFit Games athlete 2022, 2023
3rd CrossFit Europe Semifinal 2023
4th Fittest Man in Germany 2023
3rd Fittest Man in Germany 2022
4th CrossFit Lowlands Throwdown 2022
9th CrossFit Lowlands Throwdown 2021
2023
Wodapalooza
Moritz made up part of Team SmartWOD, cometing in the Elite team category alongside Fabian Beneito and Tristan Valiquette. They finished 13th.
The Open, Quarterfinals, and Semifinals
After placing 172nd worldwide in the Open and 9th in Europe at in the Individual Quaterfinals, Moritz went on to compete in the Europe Semifinals. At the end of the competition he stood on the podium in 3rd place after falling out the top 8 in only one event all weekend.
CrossFit Games
In August of 2023 Fiebig made his second CrossFit Games appearance as an individual. At the end of Day 1, he sat in 4th overall thanks to an impressive 5th place finish in Event 2, the gruelling Pig Chipper. His best Games event finish was in Event 4, the Olympic total, where he put up an immense 642 lbs (291 kg). Unfortunately, his standing had fallen just outside of the top 20 and he was cut just before the final day of competition.
2022
The Open, Quarterfinals, and Semifinals
Mortiz ranked 71st in Europe after participating in the Open. Following Quarterfinals he was 5th in Europe and the 26th Worldwide which secured his place to participate in Semifinals.
CrossFit Lowlands Throwdown 2022
For Semifinals Fiebig flew to England to compete at the CrossFit Lowlands Throwdown. His dominant performance in the final event "Die Hard with a Vengeance", earned him the event win, contributed to his 4th place overall finish, and demonstrated that he is a force to be reckoned with.
First CrossFit Games
This was Fiebig's rookie debut at the CrossFit Games. His best finish was 9th in event 1 Bike to Work. He was cut after event 10 but placed 36th overall.
Dubai Fitness Championships 2022
Fiebig participated in the Dubai Fitness Championships finishing in 2nd place.
2021
CrossFit Lowlands Throwdown 2021
This would be Fiebig's first time competing in a Semifinals event. He exploded onto the scene taking 2nd in the first event. The rookie finished 9th overall at the end of the weekend.
Personal Life and Beginnings into CrossFit
Tell us a bit about your family:
I have 2 older siblings, a brother and a sister). I grew up with my mom and my brother in a small town close to Cologne. My mother has always been a hard-worker, so she is my role model.
Previous sports:
I started with soccer, then basketball, MMA.. I tried a lot of different sports because at the time I wanted to lose weight. Eventually I got into natural bodybuilding but after I had a competition on stage, I decided that it too subjective and wasn't the really the thing for me. When I found CrossFit, I liked that the scores were more concrete and fact-based so I became interested in competing.
First time doing CrossFit:
In 2016 I was in my bodybuilding off-season. I weighed 105 kg and I did my first CrossFit class at Sankt Pauli Athletik (back then it was CrossFit Sankt Pauli). The WOD had a lot of Wallball shots, Rowing and Deadlifts. I was completely exhausted!
When it was time to go back to preparing for the on-season I decided to stop bodybuilding and started coaching at CrossFit Sankt Pauli.
Then I did my first Open – 17.1 with DB Snatches and Burpee Box Jump over. The head-coach said: "Man you're heavy but you got an impressively good engine".
Q&A
How long have you been a Progrm Athlete:
I'm new with the Progrm – since April 2022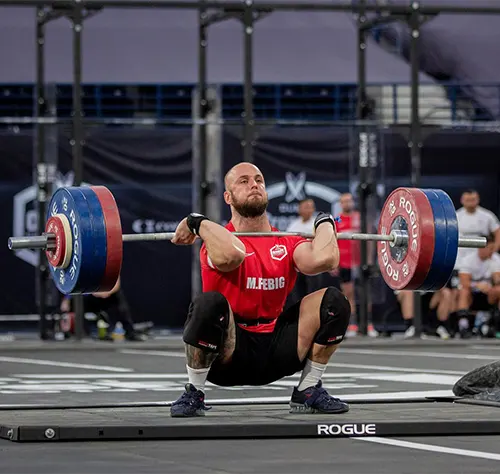 Hardest workout you have ever done:
Dubai CrossFit Championships – the one with A-Jumps and D Ball to shoulder
Choose/Design 1 workout to beat anyone in the World:
Something with bike, BMU and OHS. Maybe a sprint..I'm not really a specialist, can do of a little bit everything.
If you could bring an item to a desert island, what would it be?
A Kukri 😄
Who do you wish was watching you perform at every game or match?
My grandfather – He was great man.
Who is your favorite sports hero?
Connor McGregor
How does being an athlete make you a better person?
Sport changed my world. I get through different situations a lot better now because I know what my body is capable of. I take more risks because being an athlete helps me to believe in myself.
Best song or playlist:
Rob Bailey and the Hustle Standard – Hold Strong
Top Movie:
The Fighters. I watched it 20 times when I was younger because I loved how sport changed the protagonist's life.
Best moment in your CrossFit career:
Lowlands Throwdown Last Event Win
Tips for someone who wants to become a professional CrossFit Athlete:
Work harder. And only do it if you love the process!
What do you tell yourself on days when you feel unmotivated/tired?
I don't let these feelings control my mind and don't get caught up, so I stay focused.
What goes through your head before entering the competition floor?
You are the fire 🔥.
What do you think is the biggest lesson you've learned through CrossFit?
Control the controllable.
What are your goals in the close future (6 months/1 year/3years) and distant future (5/10/20 years)?
Short term my goal is to get better at long conditioning pieces, but eventually my goal is to be the Fittest man in Europe.