Mortiz Fiebig is a CrossFit athlete that joined The Progrm in April 2022.
Age: 27
Nationality: German
Where are you living: Hamburg
Height: 179cm
Weight: 95kg
Profession: Owner of Sankt Pauli Athletik
Tell us a bit about your family:
2 older siblings (brother and sister), grew up with my mom and my brother in a small town close to cologne. Mother was working hard, so she was my role model.
Previous sports:
I started with soccer, then Basketball (every sports I knew, cause I wanted to lose weight) ended with MMA, then natural bodybuilding, then I had a competition on stage and found out that this isn't the real thing for me and entered CrossFit to have a real competition based on facts.
First time doing CrossFit:
In my bodybuilding off-season with 105 kg bodyweight I did my first CrossFit class at Sankt Pauli Athletik (back then it was CrossFit sankt pauli) in 2016 with a lot of Wallballshots, Rowing and Deadlifts. I was completely exhausted!
Then I went back to stage and decided to stop bodybuilding and started coaching at CrossFit Sankt Pauli.
Then I did my first open – 17.1 with DB Snatches and burpee Box jump over. The head-coach said: "man your heavy but you got an impressively good engine".
How long have you been a Progrm Athlete:
I'm new with the Progrm – since April 2022
Max Clean and Jerk: 160
Max Snatch: 130
Max unbroken RMU: 27 (2020)
Quickest 5km Run or Row: run 21'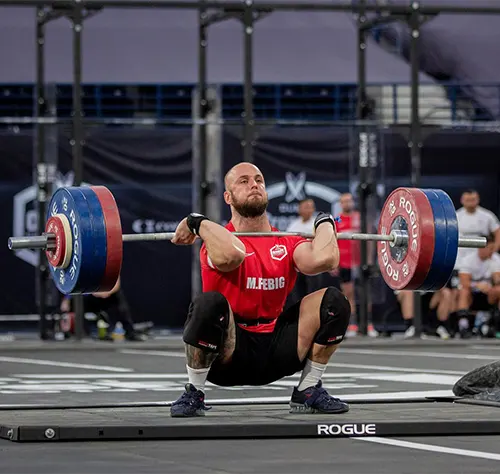 Hardest workout you have ever done:
Dubai CrossFit Championships – the one with A-Jumps and D Ball to shoulder
Choose/Design 1 workout to beat anyone in the World:
Something with bike, BMU and OHS, a sprint, but I can do everything a little bit, nothing specially perfect
If you could bring an item to a desert island, what would it be?
A Kukri 😄
Who do you wish was watching you perform at every game or match?
My grandfather – great man, died 3 years ago
Who is your favorite sports hero?
Connor McGregor
How does being an athlete make you a better person?
Sport changed my world. I go in different situations further now, because I know what my body is capable. I take more risks, cause being an athlete helps to believe in myself. And Sport is my Ventil.
Best song or playlist:
Rob Bailey and the Hustle Standard – Hold Strong
Top Movie:
The fighters (watched it 20 times when I was younger caused I loved the fact how Sport changed his life)
Best moment in your CrossFit career:
Lowlands Throwdown Last Event Win
Tips for someone who wants to become a professional CrossFit Athlete:
Work harder. And only do it if you love the process!
What do you tell yourself on days when you feel unmotivated/tired?
I don't let these feelings control my mind and don't get caught up, so I stay focused.
What goes through your head before entering the competition floor?
You are the fire 🔥.
What do you think is the biggest lesson you've learned through CrossFit?
Control the controllable.
What are your goals in the close future (6 months/1 year/3years) and distant future (5/10/20 years)?
Close future – get better in long conditioning
Distant future – fittest man in Europe
You may also like
---